Librarianship… As you may (not) know, I am a recovering web developer/content manager, sloshing her way through librarianship by once again embracing my developer/manager side in a weird Librarian/Webmistress hybrid. I sort of feel like Captain Planet, except for the whole rings of power from the planeteers thing.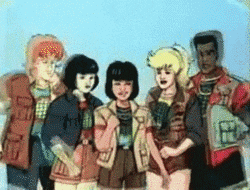 The 90's were a strange and mystical era.
Anyway…
I read a lot about design. No surprise. I spend a lot of time designing things for work, friends, and myself. Not only am I interested in web design, I'm interested in all sorts of design fields from print to information design, systems and product design, and fashion and architecture. Design feeds my curiosity about how people design themselves (life isn't about finding yourself it's about creating yourself…) and their lives.
Now as far as librarians go I'm a still hatchling, just starting to recognize patterns of what makes a great librarian. And what I'm finding about many of my colleagues and librarians I admire are the different directions their lives took and the different careers they had before coming to librarianship. And the different interests they have that influence their roles as librarians. This isn't a new idea. Personally, I'm still amazed at how much librarianship has in common with web development. Those things that make great designers and developers translate almost effortlessly into what makes great librarians.
Allow me to elaborate.
AListApart is one of my favorite spots on the web. Their writers, designers, developers, and content strategists explore topics on best practices and standards across the web world. Ever hear of the responsive web? Ethan Marcotte wrote a now-famous article on responsive design back in 2011 that many cite as the foundation of the now standard practice. To summaries, Marcotte was reading about a shift in architectural design where building designers began creating spaces that respond to the people in them. That's when he had an ah ha! moment. He realized that the future of web design and development shouldn't be about forcing sites to fit on the devices and screens of users. Instead web workers should focus on creating adaptable sites.
Pretty amazing, right? That may be oversimplifying it, but the point is, this kind of forward-thinking, future-proofing creativity, brought on by Marcotte's interests outside his field, are exactly what how I've seen librarians approach librarianship for years.
Public librarians may still follow many of the decade-old conventions regarding patron services, reader's advisory, collection development, reference and instruction, etc., but while they are making book displays and running read-a-longs, many also focus on the changing landscapes of their communities in the age of the internet. They respond by having an interest in, learning about, and adapting services to meet technological, educational, economic, and environmental needs. And by doing so, they make a meaningful impact on their communities.
People come to librarianship from many different places. Teachers. Lawyers. Musicians. Writer. Artists. Book lovers. Students. It's wonderful! And even those who decided to enter the library world right from college or without having worked anywhere other than the library, their passion for the profession and the outside interests they bring can only help keep our profession forward-thinking and future-proof.
What's your library origin story? What interests do you bring to the library that impacts your community.